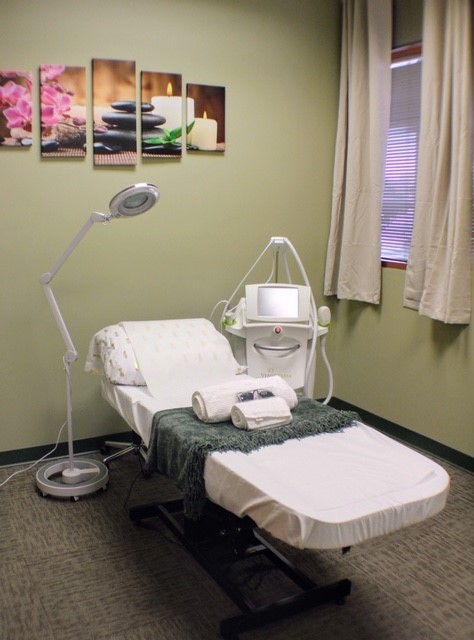 Here at Valley Integrated Wellness, we use Venus aesthetic lasers. More specifically, Dr. Sandra DeCarlo utilizes the Venus Versa™ a medical aesthetic device that can target a wide range of aesthetic concerns using a combination of different clinical technologies. The system can deliver up to nine different treatments that address concerns from anti-aging and skin resurfacing, to hair removal and acne reduction. Venus Versa™ uses cutting edge technology to offer non-surgical solutions for some of today's most in-demand aesthetic concerns, including premature signs of aging, acne, unwanted hair, skin damage, uneven texture, and wrinkles.

 CUSTOMIZABLE TREATMENTS FOR MAXIMUM RESULTS
Unique, highly effective technologies that provide noticeable results on your face and body

 QUICK AND COMFORTABLE:
Quick sessions with added safety features for the most comfortable treatment experience possible

 LITTLE TO NO DOWNTIME:
Return to your daily skin care routine 24 hours after skin resurfacing treatments. No downtime for all other treatments.
One of the most popular laser services we offer here at Valley Integrated Wellness is the TriBella™ treatment. The TriBella™ facial treatment is a three-in-one therapy that combines photofacial, anti-aging, and skin resurfacing to improve skin tone, elasticity, and texture.
Through sun exposure, aging, and hormonal changes, the skin can sustain a lot of damage. If you've noticed age spots, sun damage, or uneven pigmentation/tone, the TriBella™ facial rejuvenation treatment may be right for you. TriBella™ facial rejuvenation is a high-intensity non-invasive solution that gives highly visible results, fast. Combining three unique procedures into one complete skin renewal treatment, the TriBella™ treatment exclusively available from our Venus Versa™ device will leave your skin feeling incredibly smoother, and looking younger and healthier.
The Venus TriBella™ photofacial treatment corrects discoloration, fades age spots, reduces sun damage, and improves skin tone. Then, the anti-aging treatment diminishes fine lines, reduces wrinkles*, and firms up skin. Lastly, the skin resurfacing treatment smoothens out the appearance of uneven skin texture, scars, rosacea, enlarged pores, stretch marks, and other skin textural concerns.
Source: https://www.venustreatments.com/en-us/